STRONGLY RECOMMENDED for ALL students, especially advanced orchestra/guitar students
Link to scholarship application (due August 30 by 5:00 p.m.):
Lesson Scholarship Form
---
Private music instructors are usually very good about finding a time/date when they can meet with your child. If your child is going to be in 7/8 grade in orchestra or guitar next year (especially if they are in our advanced performing ensembles), it is STRONGLY RECOMMENDED that they are in private lessons. If your child is a beginner, private lessons can help them excel in the class and often result in them earning a spot in the Honor Orchestra/Advanced Guitar class. Scholarships/Financial aid may be available if you contact me. Also, reduced-price group lessons are possible if enough parents contact me. jeffrey.hall@austinisd.org, 512-841-3724.
COST (this is a reduced price): $40/half hour each week or $60/hour each week
It's never a bad idea to call a teacher to express your interest and see if they can work with you on their price. They may say no, but many of them will if they can.
Lessons can usually happen at school during class and after school. For most instructors, weekends are an option at their house/studio.
---
Violin
Sophie Verhaeghe
sjverhaeghe@gmail.com | (719) 650-8564
A native of Colorado, Sophie Verhaeghe began playing the violin at age 3 and made her solo debut at the age of 12. She has performed in Carnegie Hall, the Sydney Opera House, and the Shanghai Oriental Arts Center. Sophie has been a fellow at the Colorado College Summer Music Festival, Talis Festival and Academy in Switzerland, and the National Repertory Orchestra, where she was a featured soloist.
Sophie has been a member of the Austin Symphony Orchestra since 2017 and a member of the Austin Opera orchestra since 2019. Her love of orchestral music has led her to perform with the crossover duo 2Cellos, the Houston Symphony, and the San Antonio Symphony as a contracted member. As a chamber musician, Sophie has collaborated with members of the Met Opera Orchestra, Hong Kong Philharmonic, Cordova Quartet, and Latitude 49, as well as clarinetist Dimitri Ashkenazy and pianist Anton Nel.
A passionate educator as well as performer, Sophie is on the faculty of Texas Lutheran University and maintains her own private studio in Austin. Sophie is also a co-founder of and Director of Operations for Austin Camerata, a chamber music festival that seeks to stretch the boundaries of artistic collaborations.
Sophie holds degrees from the University of Michigan, Boston University, and the University of Texas at Austin. In her spare time, Sophie enjoys running, yoga, happy hour, and watching college football.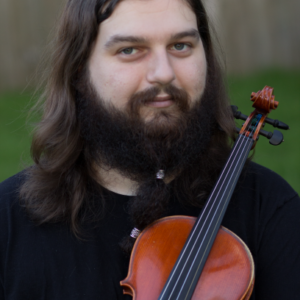 Justin Gortva Scheibel
jscheibel.violinstudio@gmail.com – (559) 547-5997
(TEACHES VIOLA AS WELL)
Justin Scheibel teaches classical violin and viola, folk music, metal and fiddle with over a decade of experience. He enjoys engaging students in building their artistry and creativity as budding young performers and fostering a life-long appreciation for music. As a teacher, he believes that self-motivated study has to be learned in a fun environment, where a student can experiment and develop along their own unique path. His teaching approach focuses on developing deep personal engagement and understanding. Justin's former students have gone on to study music at a collegiate level and have won state and regional competitions.
Justin grew up in Cincinnati, Ohio and was shaped by his lifelong passion for film music to become a recording artist. He has performed with Hollywood composer Joe LoDuca and premiered his reimagined score to Evil Dead at MondoCon2019. He has also recorded several film scores with Austin's own Brian Satterwhite and is a soloist on the soundtrack to Sour Bear. Justin is lead violinist of the neofolk band Nøkken + The Grim, which has released several albums and been featured on three compilations. Justin has also performed at SXSW with Bekon, a producer for Kendrick Lamar. He co-directs The Auricle Chamber, a modern classical music ensemble, where he often debuts new solo violin and chamber music works.
On his down time, Justin has a huge passion for nature, hiking and backpacking in the wilderness, philosophy and books.
---
Viola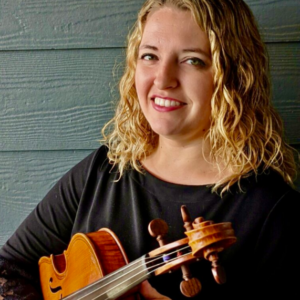 Emma Funderburk
funderburkstringstudio@gmail.com  | (310) 592-5711
Virtual lessons or in-person 183 & Anderson (TEACHES VIOLIN AS WELL)
Emma started her musical career on the violin when she was nine years old in Santa Monica, CA. After playing in orchestras in public schools and taking private lessons, Emma decided to make the switch to the viola when she was fifteen. Emma then went on to study music education at the University of Colorado at Boulder, where she graduated in 2017. After graduation, she started teaching middle school orchestra, guitar, mariachi, music production and music appreciation in Colorado Springs, CO, where she saw a wide range of diverse learners as she built a strong music program. In an effort to further her education, Emma has decided to return to school at the University of Texas at Austin where she will earn her master's degree in Music and Human Learning by the end of 2023.
Emma has devoted her life to teaching music to students of all ages and learning styles. Any and all students are welcome to inquire about lessons on the violin or viola.
---
Cello
Dr. Karla Hamlin
karlamhamelin@gmail.com  |  (512) 497-6589
Dr. Karla Hamelin holds a Doctorate of Musical Arts from The University of Texas at Austin, a Masters in Music from The University of Michigan and a Bachelor of Music from the University of Manitoba. Karla is an active performer, coach and teacher who enjoys performing solo recitals, orchestral concerts, chamber music and premiers of new music. On faculty at Texas State University School of Music since 2011, she teaches across a range of areas including cello, chamber music, string pedagogy, string literature, and is the director of the Texas State University String Camp. With extensive Suzuki training in books 1 through 8, Karla maintains a private Suzuki studio for students from four to eighteen years of age in Austin and the Central Texas area. Dr. Hamelin has attended numerous music festivals including the Aspen Music Festival, Aria Music Festival, Johannessen International School of the Arts, the Texas Music Festival, International String Workshop in Austria, and the Banff Center for the Arts.
Please note Dr. Hamlin's lesson rate is $40/half hour, $60/hour.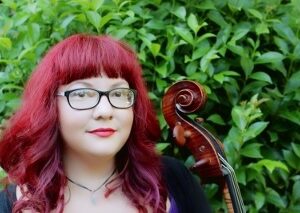 Elizabeth L. Massad
massadliz1323@gmail.com  |  (361) 877-1496
Elizabeth L. Massad, also known as Liz Massad, is from Corpus Christi, Texas. At 6 years old, she began piano lessons and cello lessons at 8 years old. She studied composition with Dr. Michael Ippolito, Dr. Neil Flory, Richard Hall, Dr. Russell Riepe, and Dr. Thomas Clark. Elizabeth studied cello with Dr. Karla Hamelin, Claire Holland-Onuf, Susan Sturman, and Benjamin Westney. Her studies also include piano and choir with Mildred Benight and Judy Mellenbruch.
Elizabeth holds a Master of Music Composition, as well as a Bachelor of Arts in Music from Texas State University. Her main interests are composing for film scores, commercials, video games and performing electronic, classical, and new music. Elizabeth's music has been performed by the Del Mar Chamber Orchestra in Corpus Christi, The SMART orchestra in San Marcos, and students at Texas State University. She was named principal cellist for the Texas State University Symphony Orchestra, the Del Mar Chamber Orchestra, and the Starlight Symphony Orchestra. Elizabeth was also one of the finalists for the Artistic Director position for the SMART orchestra in 2019.
In 2017, she had the honor of being a guest soloist for the Del Mar Chamber Orchestra. She performed works written by colleagues that range from string quartets and cello solos, to amplified cello with visuals. In addition, Elizabeth performed as a pit musician for operas and musicals including "The 25th Annual Putnam County Spelling Bee" with Texas State University's Musical Theater Department.
Her compositions are featured in the film Yorktown (of which parts of the score can be found on iTunes), El Cucuy, 2014 SXSW film participant and winner of the Pepe Serna award and Muerte: Tales of Horror. As a studio musician, she recorded cello for multiple projects, including Ashleigh Stone's album, "Elements" (2015) and Memories in Broken Glass's album,"Enigma Infinate"(2017).
Elizabeth is the Cello instructor, Beginning and Chamber Orchestra Director for the Community Music Academy at Texas Lutheran University and also runs a private cello studio. She is certified in Suzuki Cello Training in books 1-3.
---
Bass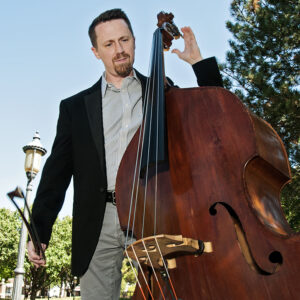 Daniel Racer
danielracercomposer@gmail.com | (316) 641-5693
Bassist and composer Daniel Racer has taught in the Austin area since 2018.  Prior to that he was director of strings and composition for 20 years at Friends University in Wichita Kansas.  He holds a bachelor degree in music education from Southwestern Oklahoma State University and a master in music theory and composition from Wichita State University.  As a bassist he is involved in music of all genres from classical to jazz to rock and beyond.  As a teacher, his primary objective is to help students achieve the technical skill to play and perform the music they love.
---
Classical Guitar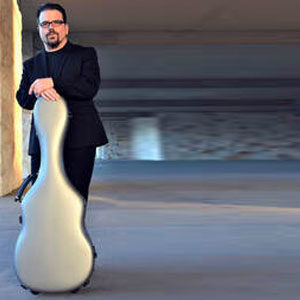 Dr. Chad Ibison
chadibison@gmail.com |  (713) 894-2995
American guitarist Chad Ibison has captivated audiences across North America and abroad through his imaginative musical interpretations and charismatic stage presence. Hailed through critical acclaim, Chad has been described as "really versatile in terms of contrast and range of expression" (Classical Guitar Canada) with "masterful phrasing combined with technical precision" (ClassicalGuitar.org). Composer Gregory Sullivan Isaacs, in the Fort Worth Star Telegram, perhaps best describes Ibison's impact as a performer; "Chad gave an incendiary performance. His approach was, at the same time, aggressive and intimate. He melded with the instrument, and the result was brash, expressive and technically secure."
Along with his critical acclaim, Ibison has accumulated ten first place awards among his eighteen top prize wins at international guitar competitions. Chad has distinguished himself in some of the world's most prestigious competitions: The Guitar Foundation of America, JoAnn Falletta Concerto Competition and Boston's New England Conservatory Guitarfest. As a result of the competition wins, Chad is sought after as a concert artist throughout America. He participates regularly at many guitar festivals as a performer, teacher and judge.
Currently, Chad resides in Austin, Texas where he graduated from the University of Texas at Austin with a doctorate in guitar performance while serving as Adam Holzman's teaching assistant. For his final year as a doctoral candidate, Chad created a new critical edition of selections from the 24 Caprichos de Goya, op. 195 by Mario Castelnuovo-Tedesco.
Chad is a member of the Ibison Duo, where he and Dr. Janet Grohovac perform throughout the US and abroad. Recent concerts include the Festival Internacional de Guitarra de Taxco, Mexico, St. Barnabas' concert series in Canada, Ticino Musica's concerts in Lugano, Switzerland, Greater-Houston Guitar Guild concert series, Austin Classical Guitar's Cactus Café series, and Austin's radio stations KMFA and KVRX. The duo also collaborated as clinicians for Carnegie Hall's Lullaby Project in partnership with Austin Classical Guitar.
As a dedicated educator, Chad began teaching at a young age which eventually led to the formation of his thriving company, CMI Music Lessons in Houston, Texas, where Chad taught on average sixty students per week for over fifteen years. In addition, Chad has also taught at The University of Texas at Austin, Columbus Conservatory, Orpheus Music Academy, St. Elmo Elementary, and in masterclasses across the United States and abroad. As of 2016, Chad Ibison currently is the Assistant Professor at Texas Lutheran University and private instructor at McCallum and Covington Fine Arts Academies.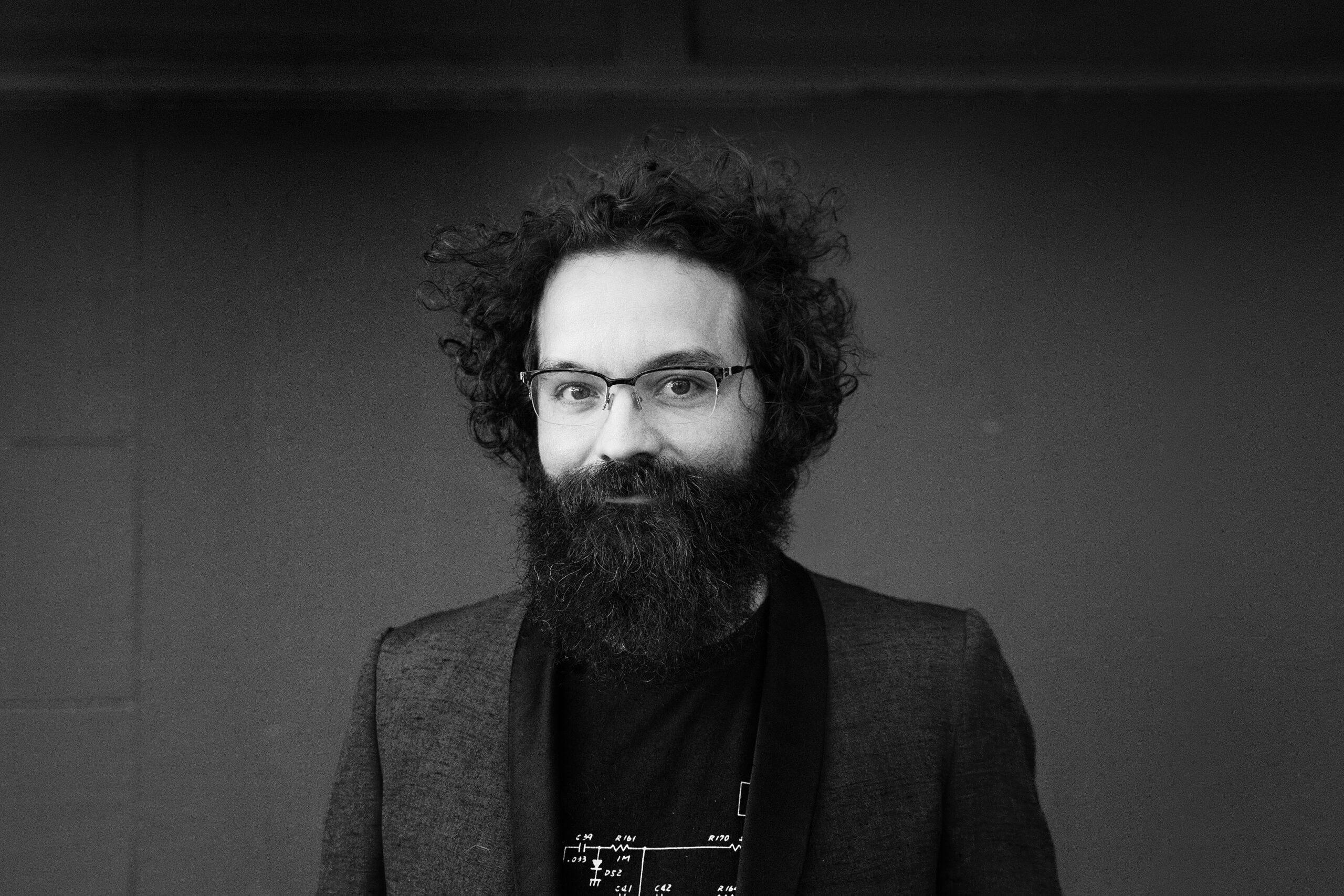 Dr. Thomas Echols
tommyecho@gmail.com | 323-898-7717
Thomas Echols's work is an amalgam of classical, jazz, modernist, and pop music forays.
As visiting artistic director for Austin Classical Guitar (Summer of 2015), Thomas curated programs incorporating traditional instrumental recitalists, experimental electronics, newly commissioned works, and interactive visual projections. He has recorded and performed with the Grammy Nominated choral ensemble Conspirare and the Houston Symphony Orchestra (the latter's recording of Wozzeck recently won a Grammy and the prestigious Echo Klassik award for best operatic recording), and has had major engagements at the Walt Disney Concert Hall, Palazzo Chigi (Siena, Italy), The Whittier Bach Festival (LA, The Blanton Museum of Art (Austin), Jones Hall (Houston), and other venues around the world.
His experimental-pop alter ego, Man, Woman, Friend, Computer, creates deconstructed pop songs that unfold into meandering compositions, synth fetishism, polyrhythmic laments, bebop ballads, and somnambulist visions –with a spontaneous interplay between performer and the generative algorithms of his custom software. MWFC's debut album has garnered rave reviews from Austin Monthly and The Austin Chronicle, which calls it "Meditative and fetching . . . he ventures into a complex amalgam of analog and synth. Wistful, romantic. . . Echols' vocals sooth to surrender." As a classical guitarist,
music technologist, composer, and song writer, Thomas is a mainstay in the thriving classical guitar and experimental music scenes in Austin. Thomas is active as a performer and lecturer, and he has contributed scholarly articles to Soundboard Magazine.
Thomas's popular YouTube channel "The Labyrinth of Limitations" combines his work as an educator, theorist, composer, jazz improviser, and music technologist to teach the concepts of the great jazz pianist and teacher Barry Harris.
Thomas Echols holds degrees from the University of Southern California (Doctor of Musical Arts), the University of Texas (Master of Music), the University of Colorado (Bachelor of Music), and the Accademia Musicale Chigiana in Siena, Italy (Diploma di Merito).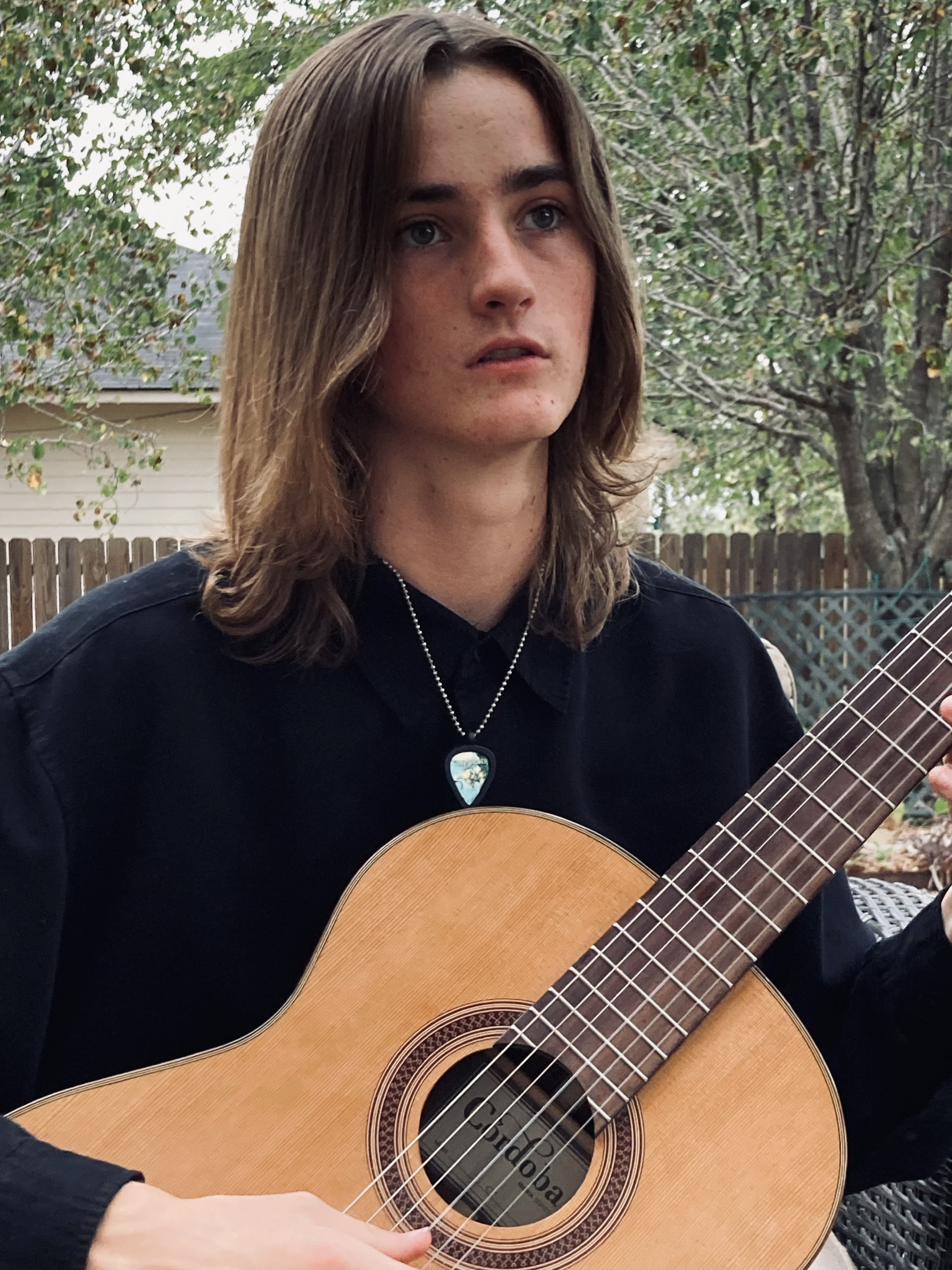 Griffin Carlin
griffincarlin@icloud.com | 737-205-0352 (text or call)
Griffin Carlin is a varsity guitar student at Austin's Bowie High School and is an award winning classical guitarist. Griffin is a multi instrumentalist and also plays viola in the Bowie varsity orchestra. He is a Covington FAA alumni and currently in the 11th grade.
Awards and Accomplishments:
Austin ISD Solo and Ensemble "Best in Class" and selected to perform on AISD TV – 2019 (6th grade – first year playing guitar)
Promoted to Covington Strings Advanced Guitar starting in 7th grade – 2019
Bowie High School Varsity guitar – 2021-present (9th, 10th, and 11th grades)
Selected for Region 18 Guitar Ensemble – 2022
UIL Region 18 Solo and Ensemble Contest gold medal winner – 2022
UIL State Solo and Ensemble Contest silver medal winner – 2022
UIL Region 18 Solo and Ensemble Contest gold medal winner – 2023
UIL State Solo and Ensemble Contest silver medal winner – 2023
In addition to playing classical guitar, Griffin enjoys playing bass guitar and electric guitar and plays in several bands in his spare time. He is currently, and has been for the past four years, a guitar student of Dr. Chad Ibison. In the summers of 2022 and 2023, Griffin trained and worked as a camp counselor at Camp Double Creek in Round Rock and Pflugerville. Griffin is a native Austinite. 
Griffin's lesson rates are $20 per half hour or $35 per hour.