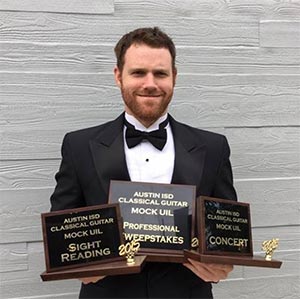 Jeffrey Hall is the Orchestra and Guitar Director at Covington Fine Arts Academy. He has been teaching Guitar and Orchestra in AISD since 2010, and began teaching at Covington in 2015. Mr. Hall attended the University of Houston, receiving a bachelor's degree in Music Education. In addition to teaching Strings, he has been classically trained in Piano, Classical Guitar and Music Composition.
Mr. Hall and his students receive the highest ratings possible each year at the UIL Concert and Sight-reading Contest and every year, many Covington students are accepted into the Region 18 Orchestra. In his career, his students have been featured several times on KUT and local news outlets. He has also applied for several grants and coordinated many fundraiser events to provide instruments and support for students without adequate resources to learn music.
In his free time, he loves to spend hours watching Netflix, Hulu and HBO, as well as doing Yoga and Pilates with Ms. Vallejo, our Amazing Theatre Director. After teaching music for over 10 years, Mr. Hall has found a home at Covington and cannot say enough great things about his amazing students!
---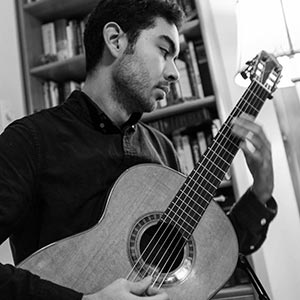 Saul Hernandez-Trejo Austin native Saul Hernandez-Trejo holds a Bachelor of Music Degree in Music Education from Texas State University. During his time at Texas State his studies were centered around classical guitar, choral music, and jazz. As an Educator, Mr. Hernandez-Trejo believes in fostering confidence, individualism, and determination in his students. Mr. Hernandez-Trejo currently directs classical guitar ensembles and mariachi at both Covington Middle School and Akins High School in Austin Texas. In his free time, Mr. Hernandez-Trejo enjoys performing music, rock climbing, and spending time in nature.
---